Journey from Tierra Del Fuego to Antarctica and back on this 11-day cruise, round-trip from Ushuaia. Your voyage takes you through the Beagle Channel and the Drake Passage to explore the South Shetland Islands and the Antarctic Peninsula on foot. With expert guides, ride by Zodiac to view magnificent ice-sculpted landscapes, and see an abundance of penguins, whales and other marine life that inhabit the Southern Ocean. Returning to the comfort of your cruise ship each night, it's unlikely you'll forget the sheer size and significance of the terrain.
Your 11-day Antarctica journey includes onboard presentations by a knowledgeable and professional crew, 28 meals and ground transportation to Ushuaia International Airport. Enjoy nine nights accommodation in double or triple cabins aboard the cruise ship, which holds a maximum of 189 passengers, plus one night accommodation in Ushuaia.

Your amazing tour to the end of the earth also includes day trips aboard a Zodiac. You'll explore the icy blue waters of the Southern Ocean and the massive continent of Antarctica as you take in the sights of this unbelievable frozen world.
---
出発地点:
Cruise departs from Ushuaia
---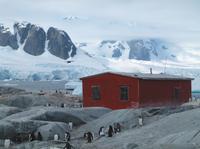 11-Day Antarctica Cruise from Ushuaia: Drake Passage, South Shetland Islands and the Antarctic Peninsula

このツアーに含まれるもの:
9 nights accommodation on cruise ship

Overnight accommodation in hotel

Meals as per itinerary (B=breakfast, L=lunch, D=dinner)
Professional guides
含まれないもの:
Gratuities (optional)
Departure tax (approx USD 36)
Additional activities

追加情報:
Confirmation will be received within 48 hours of booking, subject to availability
Essential gear to bring: waterproof pants, two sets of gloves, warm hat and scarf, socks, outer fleece sweaters and tops, shoes with no-slip soles, backpack and swimsuit
Please note: children are required to bring their own lifejacket and rubber boots

You MUST confirm and obtain any visa requirements prior to border crossing. All visa requirements are the sole responsibility of the traveler
Included activities are contingent on weather conditions

Please note: space for optional activities is limited. Please contact your local tour operator prior to departure to reserve your spot for activities

Minimum age is 12 years
Please advise any specific dietary requirements at time of booking
Sea sickness tablets available on board ship. However it is recommended to bring extra tablets or patches

旅程:
Day 1: Ushuaia
Arrive in Ushuaia, the world's southernmost city and the capital of Tierra del Fuego, affectionately known as el fin del mundo – the end of the world. After you check in to your hotel, enjoy free time at your leisure. Spend your afternoon or evening discovering the delightful shops, eateries and museums of this charming town, or hike up the steep Avenue San Martin for a fantastic vista of the Beagle Channel.
Overnight: hotel accommodation in Ushuaia
Day 2: Ushuaia -- Beagle Channel (B, L, D)
Climb aboard your cruise ship to meet your guide and fellow passengers as you set sail through the awe-inspiring Beagle Channel. From the decks of the ship, keep on the lookout for a mix of fascinating birdlife, such as penguins, cormorants, the black-browed albatross and the elusive snow petrel.
Overnight: cabin accommodation aboard the cruise ship
Day 3-4: The Drake Passage (B, L, D)
As the ship navigates through the infamously rough waters of the Drake Passage – a 500-mile (800-km) wide body of water that Sir Francis Drake discovered between South America and Antarctica – witness some of the region's rare wildlife. Watch the feeding spectacle of seabirds and other marine life drawn to the nutrient-rich sea where polar and temperate waters mix.
Spot albatross, penguins, whales and dolphins from the decks of the ship, or enjoy the gorgeous ocean views portside. You can join one of several engaging on-board presentations from experts who cover such topics as whales, birdlife, expeditions, geology and – of course – Antarctica.
Overnight: cabin accommodation aboard the cruise ship
Day 5-8: South Shetland and the Arctic Peninsula (B, L, D)
Voyage into the heart of the Antarctic waters as your ship travels through various weather, ice and ocean conditions. Prepare for the unexpected, and be ready to disembark on the vast, white continent that is Antarctica.
As your cruise ship approaches the icy mass, get out your camera for great photo opportunities from the deck. Look for breaching whales and admire the breathtaking display of icebergs in the Southern Ocean.
During the next few days, stop at a variety of landing sites, such as Orne Harbor and Paradise Bay. Meet the local king penguins, or try a 'polar plunge' in the icy waters of Neko Harbour. Hear your boots crunch over the ice as you explore the white sheets of this frozen peninsula and learn about its inhabitants from expert guides.
Overnight: cabin accommodation aboard the cruise ship
Day 9-10: Drake Passage (B, L, D)
As the ship returns through the Drake Passage toward the comparatively milder climes of Tierra Del Fuego, keep on the lookout for wildlife passing overhead. Listen to a final series of lectures from a range of experts as you head toward dry land.
Overnight: cabin accommodation aboard the cruise ship
Day 11: Ushuaia (B)
After breakfast aboard the ship, wind down your Antarctic expedition on solid ground as you disembark in Ushaia. Say farewell to your shipmates before you're transferred to Ushuaia International Airport for your onward flight. If you prefer to stay in town, you can end your adventure with your own itinerary.
バウチャーについて:
このツアーについては、印刷したバウチャーかEバウチャーのいずれかを提示できます。
これは何ですか?
現地オペレーター情報:
目的地での電話番号を含めた完全なオペレーター情報が、確認バウチャーに記載されます。当社のプロダクトマネージャーは、各目的地で最も経験豊富で信頼できるオペレーターを厳選し、あいまいさを排除して、お客様に安心して旅行を楽しんでいただけるように努めています。
---
すべての販売は最終的なものと見なされ、100%のキャンセル料が発生します。